The past decade has been a most exciting one. In spite of the tensions and uncertainties of our age something profoundly meaningful has begun. Old systems of exploitation and oppression are passing away and new systems of justice and equality are being born. In a real sense ours is a great time in which to be alive.

Therefore I am not yet discouraged about the future. Granted that the easygoing optimism of yesterday is impossible. Granted that we face a world crisis which often leaves us standing amid the surging murmur of life's restless sea. But every crisis has both its dangers and its opportunities. Each can spell either salvation or doom. In a dark, confused world the spirit of God may yet reign supreme.

~ Martin Luther King, Jr., "

A Testament of Hope

"
Powered by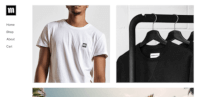 Create your own unique website with customizable templates.